Emotional value
& instant wellness
The Emotional Value that plays with shape and form, becomes a point of reference for future purchasers: quality, function, ergonomics, but also shape, weight, level of expression and perception. Using surfaces or volumes that relate to each other with simple ratios, together establish a dialogue with the light that defines and supports them.
The visual link that is created between these primary elements, is the soul of the game between architectural geometric planes and solid figures, weights and transparencies. The lightness or the feeling of suspension is communicated through the characteristics of the material, the transparency of the glass, but also because of the relationship between the visual force, of the real or perceived forms employed. Formal simplicity and aesthetics captured and crystallized in a moment.
1
As a result of years of experience
and Italian tradition, we have added a back light and heated glass shelf which combines style and practicality to Toto.
2
The upper compartment
is perfectly designed to accommodate an expresso machine or other accessory.
3
Glass door with an opening
scenography of rotation, heat treatment of glass customizable graphics.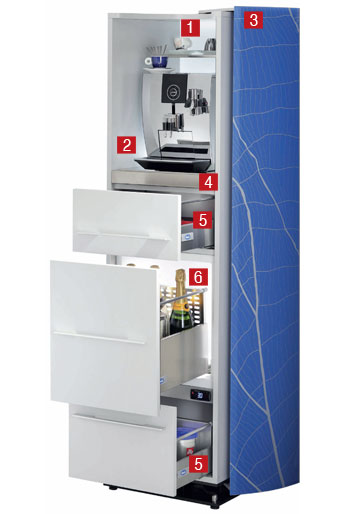 4
The stainless steel sliding shelf
glides on guides smoothly, which facilitates maintenance.
5
The top drawer
is designed to accommodate delicacies to offer visitors: chocolates, cookies, candies, coffee-refills... The bottom drawer can hold extra stock.
6
A large refrigerator,
electronically programmed up to a temperature of +5°C, to cool soft drinks, fine wines or milk and other beverages.
TECHNICAL SPECIFICATIONS
Glass sliding door
Net weight: 151 kg
Consumption: 894 Kwh/y
Automatic defrosting of the refrigerator
Internal light which comes on automatically as the door opens
Accessable plug socket